Paul Brown on Arthur Brown, Queen and the Tregye Festival 1971
In 1971 Queen played a concert in the grounds of a hotel in Carnon Downs, a village in Cornwall. Also on the bill that night were headliners Arthur Brown's Kingdom Come, and Hawkwind. Paul Brown was a member of Kingdom Come. Here he describes his recollections of the event.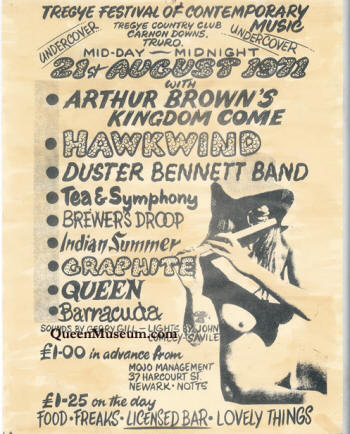 Queen and Smile - as they were previously - played in Cornwall over 30 times in the late sixties/early seventies. Their last gig in the county was at Tregye, which at the time was I think a country club outside Truro.
In a way I preferred Smile to Queen...I remember seeing Smile play in Derby in a club called 'Clouds'. I was at art school there at the time.
How did you get involved with Arthur Brown's group which was also on the bill that night in Carnon Downs?

I was in a band called 'Charge' up in Derby. We'd come down to play a gig in London in a place in Leicester Square called The Factory. Lindesfarne had been booked as well. The bloke that ran it said he wanted to be our manager and that we could use the club to rehearse in and keep our equipment. But it turned out to be a scam. He stole all the gear. By this time I'd left my art course half way through.
Then we saw an advert in the NME saying Arthur Brown wanted to form a new band. The drummer and guitarist auditioned with him and got in - and they said he wanted a synthesizer player. My immediate response was 'whats a synthesizer?'
It was a EMS VCS III. It was all dials and patches. Every sound you had to make from scratch yourself. I'd never seen anything like it before.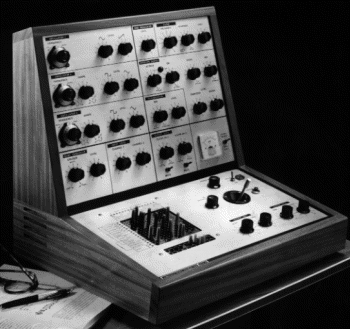 And it was Arthur's own?
Yes.
Arthur is a true English eccentric. We met him in rehearsal rooms underneath Covent Garden. He said 'mess around with the synth - we're off to Italy tomorrow'.
Arthur at that time was on a record label that only had three acts: The Who, Jimi Hendrix and him. After 'Fire', which was a big hit and which sold 4 million copies he went to live in Dorset, in Puddletown, where he did some crazy things like putting lights on cows. And basically spent all the money he'd made.
Weren't Kingdom Come one of the first bands to use a drum machine?
Yes. Arthur played the drum machine - though the speed at which it would play would depend on Arthur's mood. Some nights he would put it on so fast it was hard for the rest of us to keep up!!
We also had the world's first quadraphonic sound system which ran off a car battery. But it blew up.
There's a great film of 'Kingdom Come' at Glastonbury which is the same year as the Tregye gig. Did you play pretty much the same set and have the same stage performance?
Similar. The burning crosses were Des Fisher's idea. He used to be a carpenter: he just said 'I know lets make some crosses'. And then we set fire to them. There were no fences or anything: I mean they wouldn't be allowed now. In fact there were some chickens that had roosted on the tops of the crosses - and they were burnt to a cinder. It was like Kentucky Fried Chicken - and the music press and papers said that there had been a black satanic mass.
Robert Stigwood was his manager and the likes of Alice Cooper and David Bowie used to watch us and get ideas for their acts. The next manager was a barrister.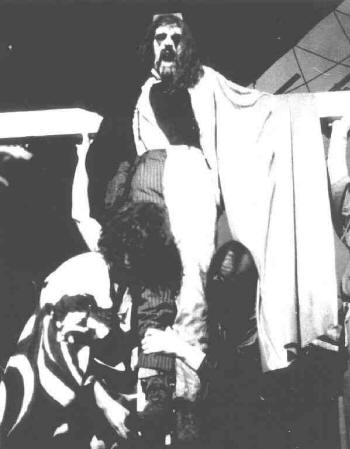 Robert Stigwood managed The Who and Cream and the Bee Gees amongst others...
Yes.
Can you say a bit more about the stage act as it would have been at Tregye?
The thing about the music was that we played the Kingdom Come album 'Galactic Zoo Dossier' so that all the songs seamlessly merged into one another.
The act started with a 12 foot high crucifix on the stage. Arthur was hidden in the audience, where he would pretend to be an old man, and we would drag him out. He'd be wearing a costume which at that time featured half a pinstriped suit and half a hippy outfit with half a beard. He'd be lifted onto the cross and he'd jump off to sing the first note. Quite often we'd do it in almost complete darkness but I think Tregye was quite light.
We had a hamper full of costumes. They stank because they were never washed! My favourite then was a gold lame suit. I used to wear a silver fireman suit too sometimes!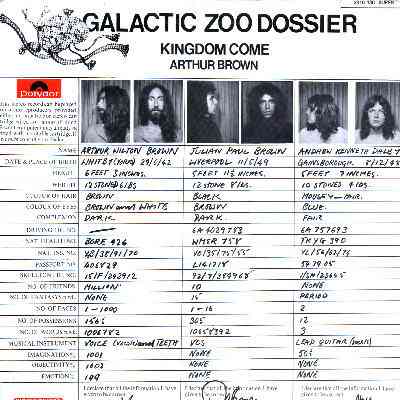 Of course at Tregye, Hawkwind were on the bill as well...
Arthur still plays with them. They're great friends. We used to think they were n't as musical as us, and their fans were really off their heads.
But they had a similar sound in other respects. Psychedelic or space rock. That kind of thing?
Yes. Psychedelic rock. And there was a lot of drugs involved. And I lost some friends because of it.
Vincent Crane the first Arthur Brown keyboardist was sectioned I believe...
Yes...but Carl Palmer, his drummer, of course went on to form Emmerson, Lake and Palmer...
So do you remember Queen at Tregye too?
Not really. It may be that I didn't actually see their act for some reason.
I remember speaking to Roger (Taylor) on a few occasions though. I remember seeing him in Kensington Market for example. We were on the same circuit and would exchange stories: the College circuit that had the same 20 bands on. People like Van der Graaf generator were on it too. Of course they (Queen) outgrew that circuit eventually, but actually they were really struggling then.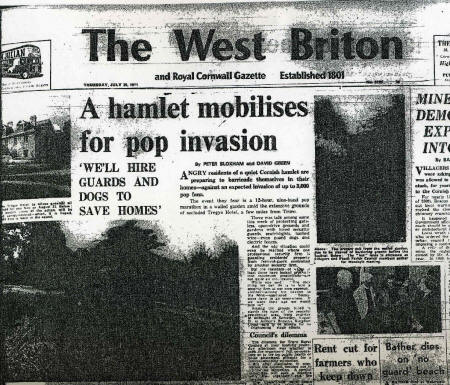 So how did your time with Arthur come to an end?
We went on this big tour of Italy where he was really popular. The rest of the band stayed in the hotel and got stoned, but Arthur and I wanted to explore Rome and see the sights so we spent a lot of time together and became good friends.
I was only 19 or so and I said to him that I wanted to sing. But the band could only have one singer so we agreed that I would leave, and I did and formed my own band. And I took the drummer with me.
Hence Arthur using a drum machine from then on?
Yes.
We've stayed in touch. He sang at my wedding 12 years ago. All the old grannies loved him. He lives in Portugal now with a much younger Russian girlfriend.
The thing about Arthur is that he is the real deal. I remember a gig we did with Alice Cooper in 1971 and Alice said he was planning to go to the Bob Hope Classic Golf Tournament. Us hippies thought that was so naff, and it made us think that Alice's act was just that: an act.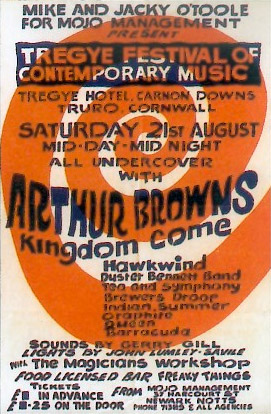 Alice Cooper nicked a lot of ideas from Arthur didn't he?
Yes. Alice's make up, for example, is identical.
I never got tired of watching Arthur perform. And the album Galactic Zoo Dossier was made on LSD over a period of two weeks or so. We did things like we had a recording of a local butcher talking for the intro, and in between songs we had the sound of the record player arm lifting up so people would think the side had finished.
If you look at the cover of the album that's me next to Arthur.
There was a lot in the local press about the Tregye festival. Unfortunately mainly negative and reactionary. Laughably so in fact.
The funny thing is that whilst I was with the band we would play 26 times a month. So many of the gigs are difficult to remember. But there was something memorable about the Tregye gig. I have family in Cornwall and they came to watch - and brought their kids...it was a nice atmosphere...
More on Queen in Cornwall at www.queenincornwall.blogspot.com