Sam Bassett on St Ives, painting, fishermen's tales and Instagram
interview Rupert White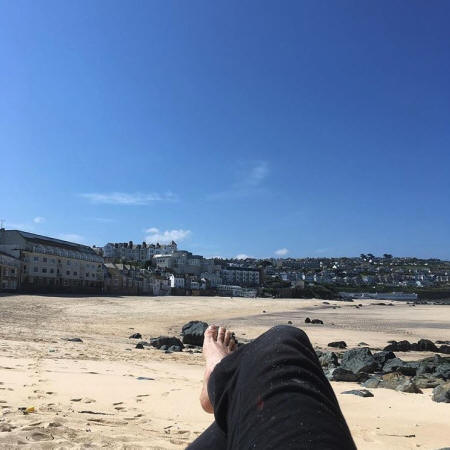 Did you grow up in St Ives? Were you interested in its art and artists at the time?

I grew up in Carbis Bay. The rest of the family were down in St Ives, and my Mum's side were in Newlyn. I wasnít really aware of St Ives art until later on - say when I got to about 16. I donít know how to say it really, but I came from a family, you know, fishing, mining, oil rigs, cleaning, selling fish (proper jobs!), God, estate life, fancy dress and boozy barbeques. Art in my early days was stuff you could make sense of, visually recognisable, Ďnot the rubbish they show down the Tate!í. I heard that a lot growing up.
I suppose it changed after I started working, down Porthgwidden beach. I spent 5 seasons there, beach cleaning and working in the kitchen. I wanted more responsibilities so they made me Ďlid managerí, managing all them lids for the chef's tubs. Hard work, but I soon got bored.
Walking through town every day and having an interest in painting, and making things in general, I started to stick my head around gallery doors. Michael (Gaca) in the Belgrave, Gilly (Henry Gilbert) up Wills Lane and that woman in the Penwith galleryÖ she was amazing.
Kathy Watkins. Yes - she was a great character...
As I remember, the Belgrave always had great stuff and I feel at this point I got introduced to Frost, Lanyon,
Hilton, Barnes Graham and Sandra Blow and stuff, you know, but I didnít know how to access these
artists. I loved it, I loved it all, and Michael was always happy to chat (well I hope he was!), chucking me the odd catalogue. It was painting, and it was nothing but everything; you know. I didnít know what it was or why it was. Thatís an exciting place to be, in the dark on something. It means you have questions and for some reason, it just really talked to me.

Do you think there are other important influences from this time, and if so, what were they?

Being from a fishing family there were always fishermen around, always telling stories (thatís true about them haha!!). Stories of sewing up the wrong fingers, paintball fights at sea, lots of tomfoolery as well as the loss of friends at sea, tragedy and absolute pain. Theyíd travel and bring back with them many stories. It's amazing how certain stories, or just sentences, stay with you.
They would always be making and fixing things, so I was always keen to 'make' too. I didnít play computers much, didnít have them, so the garage, the woods and abandoned buildings were places we could make and playÖI suppose just being outdoors; entertaining myself.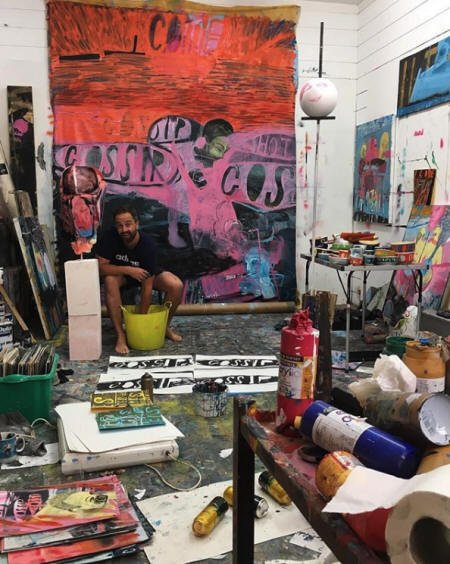 Images that were an influence, and that stand out as favourites were vinyl covers, particularly 'War of the Worlds'. And AA road maps. I used to copy them. But really, it was just what was about at the time. Inspiration comes from anything really.

You studied illustration at Uni. How did you make the switch to 'Fine Art', and becoming a painter?

Yeah, I did, I wanted to do Fine Art at college but kind of got directed into doing illustration. Same thing said to me time and time again. Itíll be easier to get a career, get work, get a job... I suppose then I was also seeing the boundaries between the two soften; illustrators were in galleries, creating self-authored work, you know. So, I agreed. I applied for a Fine Art course also but didnít get in, so I went to Bournemouth, mainly because it had a beach still. The team there were great.
At that time, I was making small oil paintings before I went away to study, I was making my art and always have been. To be honest, I never really got started as an illustrator.

I remember seeing a collection of smaller works in about 2010 in a gallery in Bedford Road. Was that your first solo show in Cornwall?
Yeah, and yes it was. I loved that place. Sam and Debbie (Hall) had it, and now have the Plumbline Gallery, just down from the Hepworth Gardens. I met Debbie in the Castle Inn one night. Chatting, she said 'I have a space you can use'. They really helped, and it was their enthusiasm and support that helped me to get a couple of shows up, around 2009/2010 I think. For a couple of summers, myself and Danny Fox used their gallery. You always remember that supportiveness. That kindness.
How has your work evolved since then? Strikes me itís much bigger, more painterly, and more confident. But you still work in a very intuitive way.
Back then I was painting out of my parentsí garage, much to their delight! Making and painting between the deep freezer and the tumble dryer! I have been in a studio now for a few years and having that space has helped me grow my ideas, as well as the scale at which I can work. I was using Photoshop a lot when I studied, so making images was 'clean'. Iím just undoing that way of constructing a painting. Iím painting more, working with the medium instead of just making it do as I want, you know.
Iím feeling more confident. Iíve been working hard to develop and push. Iím still moving out, learning, and I hope to soon be able to have the confidence to be more economical with my language. I still push paintings, layering and layering. I want to be able to communicate with less nervousness, less insecurity. Iím getting there but thatís part of me also so who knows.
Working is intuitive, it has to be. Otherwise itís like baking, and Iím more of a stirfry kinda person! I like using up whatís in the fridgeÖseeing wozzon.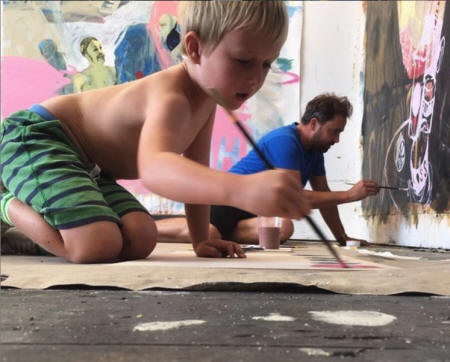 The paintings in the current show (Hourglass) feel very elemental: lots of blue, and references to the sea and sky. As a collection, are there particular themes or subjects that you were wanting to capture?
The show gives an insight to my interests and ideas on time, generations, ethnicity, heritage. I have found a new interest in walking and connecting more with the extreme parts of this area, and its ancient monuments. What's been between then and now, who's been there, what's next. I wanted this show to link more to place, to here. I wanted my work to be less ambiguous, less of an internal investigation. Windows from domestic scenes, glimpses of harbours, horizons and our place between the clouds and they, the earth, my foundations. I would say they are the start of more landscape paintings I want to make. Its an exciting shift for me as I am starting to make new routes with my work.
Do you want to say something about other projects eg your work as a curator?
I think by using that word it may be hurtful to actual curators!
You know I love art, people, happenings and I have tried to make things happen. Being involved in Bucca in Newlyn, the coffin store show, Unstable Monuments etcÖ But, Iím like the Jack Russell, the kid thatís sent out (voluntarily) to find the space. Itís been the others that have pulled the events off. I get excited finding a venue, talking to a new contact, seeing new works. I just love the excitement and the stress of making something happen. I like quick projects. I like things ephemeral by nature.
What do you see as the good things about being an artist in Cornwall? What are the strengths of the local art scene?
Well, its Cornwall. Thatís a good start. There's space to focus and I think itís good to be out of the city, for me personally. Itís good to be anywhere making art but yeah, I suppose for a rural setting we really are blessed for the number of studios, events, galleries, projects etc that exist here. The community, which is big, has its bubbles but they all stick together to make a very exciting major bubble.
There are a lot of people, with good enthusiasm and supportive natures. Itís a great place whether youíre locked away on your own making, or attending everything with fingers in all the pies. Itís got something, layers of stuff just going on. Iím a strength of the local art scene and so are you Mr Rupert. The strength is in everyone here. All for one, one for all. From the top to the bottom, if you wish to see some sort of hierarchy. But its all on a level.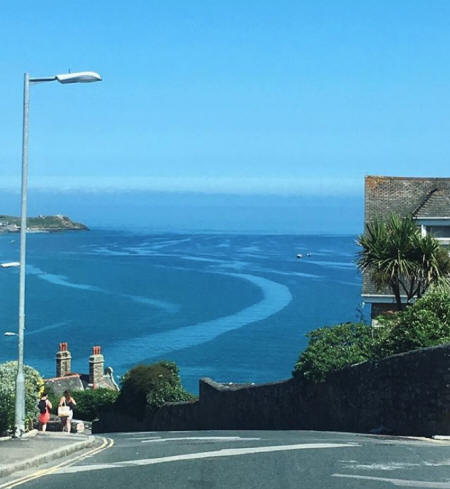 The internet helps artists in Cornwall, as elsewhere, reach more people and, it has to be said, you have a big following on Instagram.
Yeah, I suppose I do really.
Does the www and social media affect the way you make art, though, and the way you exhibit?
I use it to keep in contact with other artists, galleries and curators and collectors. Itís been an access point to a wider audience; a place to connect with others I would never have found before.
I suppose it also works as a place of research. I started off using it for general stuff, and then I noticed people were using it for their art so I started to share stuff. I must admit Iíve used it a lot, but now I have pulled back a bit. It's not great for the head. Iíve set myself a limit you know, limiting time spent on it. Itís not the entire thing, but itís been a useful tool in how I have grown as an artist.
I donít know how itís affected me, but I think it does, and it's pretty dangerous if you think about it whilst making art! Some art, some imagery etc can be 'Instagram friendly', like hunting, but thinking this way when making work is fucked up really. But I know it has crept in. Itís a reflection of our times though. Itís a mirror to us, and we look pretty ugly sometimes haha!
On a positive, its acted as a file of slides. Galleries from all corners of the earth can access your work, and get a glimpse. I have had so much from the platform its been pretty unreal. I donít know how else I could have got to where I am. It's nice for someone who doesnít read well to be able to communicate through more of a visual route. I donít know. I just wonder how long it will last, I'm just making sure I donít rely on it...
Sam Bassett's 'Hourglass' was at Anima Mundi 19.4.19-1.6.19
https://www.samuel-bassett.com
19.6.19