Sam Richards on experimental music and the campaign to save Dartington College
Sam Richards is musician who has performed all over Britain as well as internationally. He is also the author of books on folksong, musical democracy and John Cage. A prominent member of the Save Our Dartington campaign, he is an Associate Lecturer at the University of Plymouth.
Interview by Kate Jago
KJ It's great to meet a fellow enthusiast for the work of Cornelius Cardew. When did you first meet him?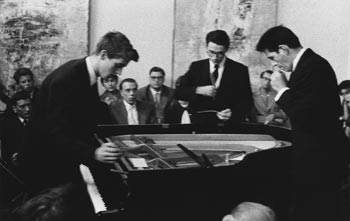 SR I was a music student in London in the late '60s. Anyone who had the least interest in experimental music knew of Cardew (pictured performing with David Tudor and John Cage right).
Preparing for a performance of John Cage's "Water Music", I needed a duck whistle - not really knowing that this was the kind of duck call that you could get from huntin'-shooting'-fishin' shops. One of my A-Level tutors had been at the Royal Academy of Music with Cardew and arranged for me to borrow Cardew's duck whistle. I called round to pick it up, and Cornelius and I had a chat about performing Cage. Obviously, I returned the duck whistle when I'd finished with it!
Some of my peers studied with Cardew at the Royal Academy - Hugh Schrapnel, Christopher Hobbs - and I remember being invited to play one of Hugh's compositions for a composition lesson at the Academy. After that I was in ensembles that played Cardew's "The Tiger's Mind" and "Schooltime Compositions". Funnily enough, given its influence on my own work, I was never in the Scratch Orchestra (picture below left). I'd moved to Devon by then.

KJ Was that a move to Dartington at that stage? You've had an association with the College for nearly 30 years, I believe.
SR Yes. Nearly forty years actually. I'd had a frustrating year at the Guildhall School of Music and Drama. I'd gone there to study with Alfred Nieman, but it turned out he was only good thing there. The rest was so old school you could smell the mould. The summer before I started at the Guildhall Nieman (who I knew from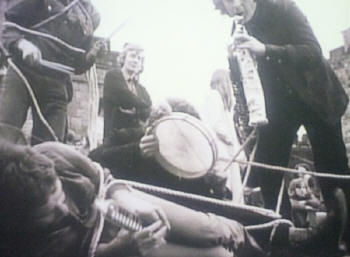 improvisation evening classes) had got me a bursary to do the composition course at Dartington Summer School of Music in 1968. I had a great time there studying with Michel Decoust - a Parisian avant gardist who had written a piece that May for the student movement. I learnt that there was a college at Dartington as well, and instinctively felt that was where I should be. I must admit, though, that when I arrived as a student it felt like I'd gone from urban civilization to Pixieland. Despite feeling uncomfortable at the Guildhall I had been exposed to a very high, if conventional, standard. Dartington, I'm afraid, was way behind on that score. But it was great for other things.
KJ To what extent would you say that Dartington's reputation was linked to the innovation and standard of the Summer School? Obviously the association with leading composers and performers of the day was of great benefit to students, but I wonder how it contributed in terms of standard of performance and ambition to the wider College?
SR My experience was always that the Summer School and the College were different institutions with a little overlap, but really not much. The leading composers and performers you mention, for example, did not also teach at the college. On the other hand menial work was offered to College students in return for which they got into some events and soaked up the atmosphere.

Out there in the world, though, there has been a little confusion. Since the plan to relocate the college was announced, for example, some people have asked me what will happen to the Summer School. Part of the answer is that the Summer School will continue to use the studios built and sustained largely with public money awarded to the College. One of the questions the Save Dartington College campaign has constantly asked concerned this use of public money to build new studios. Is it true (and, more to the point, is it right?) that as these studios were built on land owned by the Dartington Hall Trust, when the college goes the Trust, in effect, owns them.
But in answer to your first question, Dartington College of Arts made its own reputation. Don't forget that the Summer School, in any case, is just music. The College had visual art, theatre, dance and writing as well.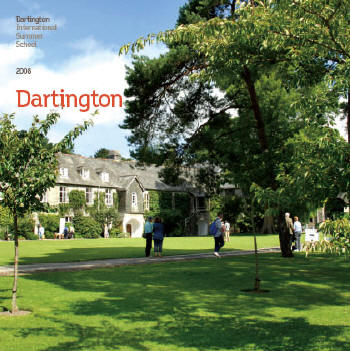 Throughout the 1970s and '80s some aspects of the College programme certainly gained a slightly radical edge. This included community theatre in working class areas - Rotherhithe and Plymouth - and some genuine theoretical questioning and debate about the role of the arts in society. You wouldn't get that at a bourgeois enterprise like the Summer School.
KJ You're right of course about the broader scope of the College. From the outside it's difficult to separate the ethos of each of the components of the Dartington campus, as well as the intrinsic links to Totnes. But the merger with University College Falmouth will effect this. You've articulated something of the energy that has gone into the attempt to save the College (reference: www.savedartingtoncollege.org) - how do you feel about the situation now?
SR First let's be clear. The merger with Falmouth took place in April of this year, but courses will run at Dartington for the next couple of years but under the auspices of University College Falmouth. Officially, what is happening is a merger and relocation.
However, the argument of the Save Dartington College campaign, and one that I totally agree with Ė as does everyone I talk to - is that Dartington College of Arts is inextricably linked with its present campus on the Dartington Estate. The unique environment has always been one of its strongest selling points, and its ethical link with the overall Dartington project is equally, if more intangibly, important. Furthermore, the college is part of the character, culture and economy of Totnes and the surrounding area. The word ďrelocationĒ, for these reasons, is one that I am reluctant to use. Everyone I know, and everyone the Save Dartington College campaign ever spoke to, sees what is happening as closure. Whatever you call it, however, the fact is that the College of Arts at Dartington is soon to disappear.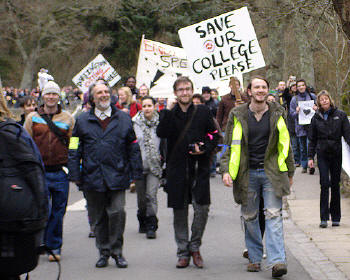 The fate of the college, against overwhelming opposition from students past and present, from many staff, the local population of Totnes and district, and from democratically elected representatives from parish to town to district to county to parliamentary levels, is, alas, merely a local example of the sham of democracy that exists in this country, and the way we are run by quangocracies and funding opportunities, none of which have anything to do with education, the arts, genuine research or anything else that matters.
The independent assessment of the college done by Jim Port of JM Consulting only a few years ago concluded that staying on site was the best option for the College, although it acknowledged that this would involve difficulties. The second Port report changed this tune. It is a matter of concern as to why this was.
However, I have to say that this whole affair has only served to point out uncomfortable structural truths about the Dartington enterprise as a whole - not just the college. It was an enterprise built on privilege - the privilege initially "bought" by the Elmhirsts, the founders of the estate in the 1920s. I'm sure there are always plenty of us who have brilliant ideas about how society should be run, or even just a small alternative enclave within society. Only millionaires like the Elmhirsts get the chance to try things out and use everybody around them as participants. Structurally, however, this is a dodgy situation because when the founders pass on, when the old school looses control, and when times change, and when all the most interesting enterprises are lost or sold off, all that's left is this feudal ownership based on land and wealth - which is now taking on a more corporate face day by day.
KJ So even if the Save Dartington College campaign were successful, it would represent a doomed enterprise?

SR There certainly are some members of the Save Dartington College campaign who believe that there could still be a last minute reprieve. My view is that the cards were stacked against us from the word go. If we found the money we think we need, they'd find more. The law is what you can afford, not what's fair. The law what you can get away with, not what's right. The campaignís experience seems to prove that. However, I think they're right to go on fighting if only to expose the appalling arrogance, lousy management and the most un-Dartington-like tone of the last couple of years at Dartington.
What those of us who care about Dartington College should be doing now is first to spread and continue what the college at its best really did. Second, not to be sentimental about it and admit that it got a lot wrong. And third, we must campaign fiercely for a public enquiry into all aspects of this sorry affair.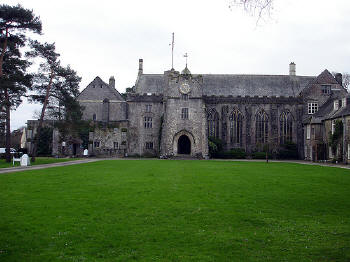 KJ So, at its best, what did Dartington College do? What will be lost?
SR We need to get beyond the myths about Dartington College and consider its real strengths. For those who studied or taught there (and I did both) its culture of creative liberalism was by far the most important element. Yet it was also the most intangible and hard to describe. This is where history, tradition and culture are so important. To be in the very place where this culture was dominant, and had been so since the 1920s, was to absorb it by osmosis. Nobody needed to explain it, neither to students nor staff. And the key ingredient in this creative liberalism was its belief in - one might say faith in - the imagination.
This is what I valued as a student as against the technocracy of a leading London music college. However, it must be admitted that it was also what made Dartington infuriating. The imagination, after all, is fuzzy, non-logical and works in flashes and hunches rather than straight lines. Of course, it was straight-line thinking that eventually infiltrated and led to the closure of the college.
More specifically, there were some quite innovative experiments at Dartington. The theatre course at one time, for example, was a four-year degree course with the third year out making theatre - of any kind - in working class communities in Rotherhithe, London or Stonehouse, Plymouth. These were both rough areas and a real challenge, especially to the more middle class students. The College should always have done things like this, and had it survived the recent crisis should have revisited this idea - the perfect antidote to its marked tendency to preciousness.
A real combination of creative liberalism in constant dialogue with life-as-it-is-lived would have been the dream ticket. Still, those of who know about and appreciate this cannot fail to take such insights with us wherever we go.
KJ Despite difficulties of transition, will the broader focus of Dartington, with not only the music but also visual arts, theatre, dance and writing you mention, benefit from absorption within the future Arts University of Cornwall?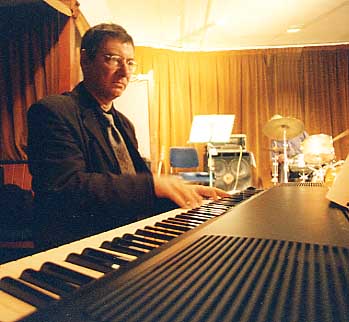 SR My feeling is that Dartington - both the college and the rest of Dartington - have dug their own graves. Itís possible that interesting things might happen in Falmouth, although anyone who believes that the Dartington College ethos can be air-dropped on Cornwall is clearly in cuckoo-land. Whatever happens there is another ball-park and I donít necessarily wish it ill. As for the Dartington enterprise as a whole, in many peopleís eyes it hasnít come out of all this very well. It has some recovering to do.
In my experience at the moment, certainly in the field of music, there is shift of energy towards Plymouth which is rapidly becoming a more exciting place. If I were a prospective student looking for a music course today I'd think seriously about the University of Plymouth. Peninsula Arts puts on really interesting music events all year round, including a contemporary music festival every February. There's excellent research into computer music. There's a B.A. course in Music which is about to move into a new building. And in and around the university and Plymouth generally there is no kind of music that isn't catered for - orchestras, rock, folk, jazz, chamber music, experimental and electronic music, you name it.
On the basis that itís generally fruitful to go where things are happening I'm putting a lot of energy into Plymouth-based activities. I occasionally play improvised music for poets at the Arts Centre, my famous (or infamous) music for fish and string orchestra is being played at the National Marine Aquarium, Plymouth, on November 1st this year. I'm teaching on the B.A. course, I'm doing a piano concert for Peninsula Arts next year, and I'm creating a new piece based on Kropotkin's notion of Mutual Aid for the festival in February. Frankly, Dartington hasn't been able to offer that degree of interest for many years now. Given how long Plymouth was in the doldrums - from being bombed in the war well into the 1980s - I'm really glad that itís on the up.
This interview first appeared in Proof magazine and appears courtesy of the Editor.