Bob Law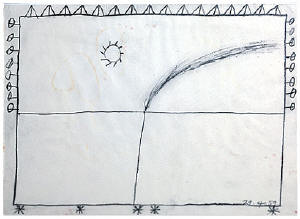 Bob Law started his life as a painter in Cornwall, and ended it there too.
Included in the defining Tate exhibition 'St Ives 1939 – 1964' he is certainly part of the story of art from St Ives, but he is quite unlike any other artist that featured in the exhibition. This is because he was an uncompromising minimalist. Although he has been widely exhibited - and was described in his Guardian obituary as a 'founding father of British Minimalism' - he is not well known.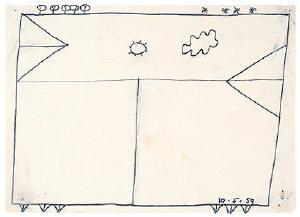 Law was born in 1934, and after National Service in Africa, he moved to a cottage in Nancledra outside St Ives in 1957 where he was encouraged to paint by Peter Lanyon. Appropriately enough the first of Law's work to attract attention was a series of drawings made from his experience of lying on his back in a field. They were nothing more than simple outlines made around the perimeter of the paper, marking the field boundary, with ideograms for trees (above and left). And although they shared much by way of procedure with Lanyons own experimental drawings they were, in comparison, cool, analytic and pared down: little more than short-hand, or a diagrammatic arrangement of symbols.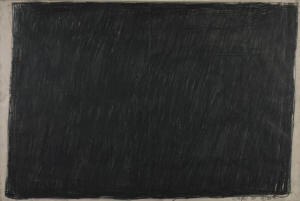 Whilst in Cornwall Law also started painting the monochrome all-black canvasses that he was to become famous for, and his big break came soon after when he was picked up by the critic Lawrence Alloway, and given a show in London at the new ICA in 1960.
There followed one-man shows at some of the most prestigious galleries across Europe, including Beuys' gallery, Konrad Fischer, Dusseldorf (1970) and the increasingly influential Lisson Gallery (1971). Later in the decade he had solo shows at the Museum of Modern Art, Oxford (1974) – with a number of works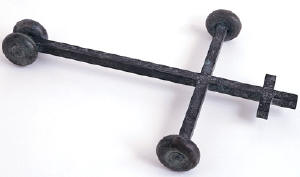 being bought for the Italian 'Panza Collection' - and the Whitechapel Gallery, London (1978).
He continued his association with the Lisson Gallery into the 80s and 90s, before moving back to Cornwall in 1997. At the time of his retrospective at the Newlyn Gallery in 1999, the Guggenheim Museum in New York were preparing a show of work from the Panza Collection, which was to feature a prominent selection of Law's output.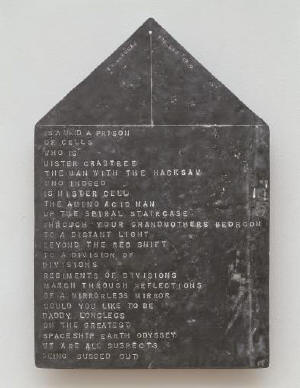 As with many of the better know minimalist artists, the minimalist label is constrictive and conceals more than it reveals. Like Carl Andre, Law wrote poetry and used text in a lot of his later work, and his sculptures often contained strong religious symbolism. The label is therefore a hindrance to understanding his art, which is difficult to place – certainly in relation to other artists with Cornish connections. His meteoric rise to art-world success was so breathtaking in its trajectory, that in some ways it overshadows the work itself, which is consistently quiet and understated.
David Batchelor has claimed that Cornwall appealed to artists in the 50s who wanted to escape the autocratic influence of the post-war art schools, and in particular conservative elements at the Slade. Being in Cornwall may have allowed Law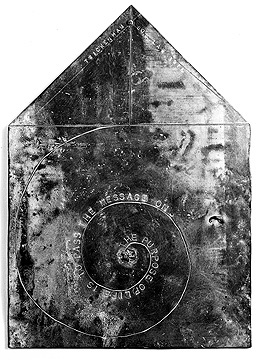 to be more receptive to American art – and, like other members of the St Ives group, Law would have been well aware of artists like Ad Reinhardt who had been painting large monochrome canvasses throughout the 50s.
The more intriguing question for contemporary Cornish artists is how Law felt confident enough to resist the gestural, painterly influence of second-generation St Ives painters and embrace a hard-line minimalism: in the process going on to become the most widely exhibited artist of the 'third generation'. It may be, simply, that his work, often angular and empty of colour always had a sobre, even melancholy quality, that was temperamentally at odds with the work of his other Cornish peers.
Law died in Penzance in 2004.
http://www.artistboblaw.org.uk/
RW October 2006