The Irish painter Tony O'Malley, who lived in south-west Cornwall between 1960 and 1990, came to prominence as a St Ives painter in the shadow of Peter Lanyon, Bryan Wynter, Roger Hilton and Patrick Heron. Like his better-known colleagues, O'Malley abstracted landscape motifs in a cogent and evocative way that struck associations with the anatomy of the figure. After returning to live in Ireland in 1990, O'Malley went on to enjoy great commercial success in a country always ready to fly the flag for its leading artists.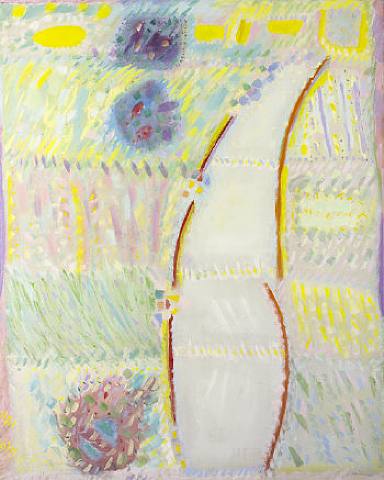 Tony O'Malley was born in Callan, Co Kilkenny in 1913, the eldest of four children. His father, Patrick, was a salesman and Sinn Fein activist. While Tony always retained republican sympathies, he was essentially a pacifist committed to the creative power of the arts. Apart from a stint of military service in the Irish army in 1940, he spent most of the 1940s and 1950s working as a clerk for the Munster and Leinster Bank. In 1943 he contracted tuberculosis, and suffered from the effects of it on his health for the rest of his life.
A painting holiday in St Ives during the mid-1950s, when he studied at Lanyon's St Peter's Loft school, inspired him to throw caution to the winds. After the death of his brother in 1958 and his retirement from the bank on health grounds, he took the decision to move to Cornwall and paint full-time.
O'Malley used the renowned art colony of St Ives, then in its post-war heyday, both as a safe haven where his artistic ambitions stood realistic chance of fulfilment and as a spa town for a middle-aged man in fragile but retrievable health. He overcame fundamental health problems to lead a long, active and eventually hugely successful career.
Essentially self-taught, he drew much from the artists around him, while bringing a note of Gaelic mystery to the abstraction of St Ives art. The ancient symbols and Celtic hieroglyphics that marked the surfaces of his mature abstract paintings added a suitably Celtic dimension to a distinctive school of painting that saw landscape as the outcome of long, slow anthropomorphic evolution.
One of O'Malley's earliest St Ives paintings, East Wind, St Ives (1961), with its abundance of luminous greys and browns, captured the desolate mood and elemental mystery of winter seas common to both Cornwall and the Gaelic west coast. A similar sombre mood characterised In Memory of Peter Lanyon (1964), Hawk's Landscape (1965) and The Falcon's Eyrie (1965), compositions that with their spiralling movement evoked an exhilarating feeling of space, flight and freedom. His work of this time, with its broad and energetic sweeps of paint and cavernous recesses or vertiginous spaces, indeed came closer to Lanyon than anything done before or after.
A benign and popular presence in the often fractious St Ives art scene, O'Malley evoked the protective and even maternal support of the many well-wishers around him. As well as enjoying the critical support of Patrick Heron, with whom he enjoyed a strong friendship, O'Malley was aided by many others who helped him through assorted illnesses. In 1961 he suffered a severe heart attack from which he recuperated at Eagles Nest, the Heron family home at Zennor.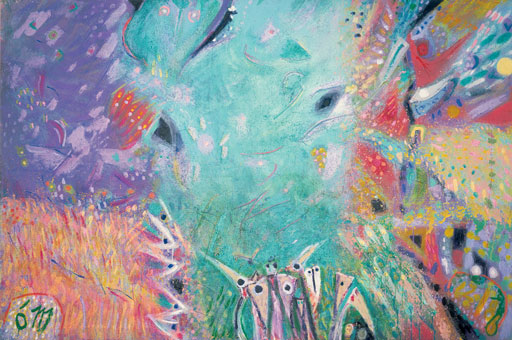 The following year he moved to Trevaylor House at Gulval near Penzance, where he benefited from a lively social life that saw an endless stream of visiting artists from St Ives and London. Owned by the wealthy painter Nancy Wynne-Jones, Trevaylor was a Cornish Garsington or Charleston, accommodating not just local but London artists, such as Bert Irvin or Denis Bowen.
On a professional level, too, O'Malley was an active player within many local exhibitions. He joined the Penwith Society in 1962, exhibiting work regularly thereafter. During the early 1960s, when galleries were less commercial and more intimate environments than today, he enjoyed one-man exhibitions at artist-run galleries such as Elena Gaputyte's Sail Loft Gallery and Elizabeth Rainsford's Fore Street Gallery in St Ives.
By 1966, however, he had a solo show at Marjorie Parr's Chelsea gallery, displaying work with this influential dealer in subsequent years. Soon after he exhibited at the Peterloo Gallery in Manchester and at Cyril Gerber's Compass Gallery in Glasgow. The solo shows with the Taylor Galleries in Dublin from 1982 onwards established him alongside the likes of Bill Crozier as one of the most collectable of Irish artists. An important book, Tony O'Malley, written by Brian Fallon, was published in 1996. A major retrospective at the Ulster Museum, Belfast and the Crawford Institute, Cork, in 1984 consolidated O'Malley's status and his work was also included in the landmark exhibition "St Ives 1939-64" at the Tate Gallery, London, in 1985.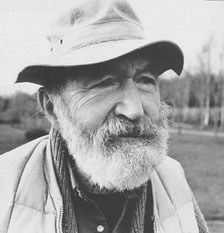 Although spectacular when it did come, his success had come slowly. Between 1969 and 1989 he rented an Arts Council property, Seal Cottage, behind Alfred Wallis's cottage in St Ives with views directly on to Porthmeor Beach. In 1973 he married the much younger Canadian painter Jane Harris, whose salubrious influence included winter visits to her family in the Bahamas between 1974 and 1987. These trips had an important impact on O'Malley's work, which took in the shape of flora or bleached light and saturated colour of the Caribbean. Offering further evidence of a Gauguinesque undercurrent running through O'Malley's seemingly charmed life, the escapes to a sub-tropical paradise liberated his palette, which became ever more audacious in breadth and intensity.
O'Malley would use a razor to deposit linear markings in the hardboard supports he favoured. He was an artist who responded immediately to the differing environments he encountered, and his works began as line drawings in full sketchbooks. The large studio pictures were worked up from Scillonian, Cornish, Canarian or Caribbean sketchbooks. The Caribbean aspect of his oeuvre was celebrated in "Island & Ocean: Bahamas", a three-year touring exhibition in England and Ireland that was initiated by John Halkes at the Newlyn Orion Gallery, Penzance, in 1986.
O'Malley's final years were spent at Physicianstown, Callan, near his birthplace. In 1993 the Irish president Mary Robinson conferred on him the highest honour of the Aosdana (the Irish body which honours writers, musicians and artists) – the status of Saoi; and in the following year he was awarded an honorary doctorate by Trinity College Dublin.
Peter Davies Obituary first published: 23 January 2003 Independent