Wilhelmina Barns-Graham
Wilhelmina Barnes-Graham, known as Willie, was born in St Andrews, Fife on 8 June 1912, the eldest child of Allan Barns-Graham and his wife Wilhelmina Meldrum of an old landed family in Stirlingshire and Fife. It was a family already old-fashioned in its formality, even austerity; religious, quietly philanthropic but not given to showing emotion. Though secure in their status the Barns-Graham family was far from rich.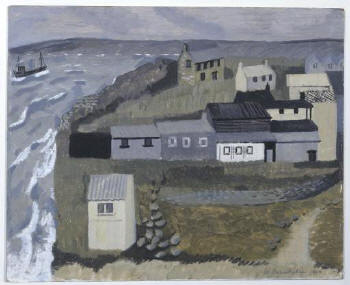 This was not a background conducive to art. Willie showed very early signs of creative ability which could safely be dismissed by her parents as mere diversions of childhood. But the sensations of artistry were too deeply imprinted to go away. By the time she was a senior pupil at St Hilda's School in Edinburgh, Willie's determination to become an artist had set as hard as her father's determination she should not. With the support of an aunt, the dispute was resolved in her favour, but it exacted a toll on both parties. Allan Barns-Graham did not reject his daughter but it was again her aunt who negotiated with him that Willie could attend the Edinburgh College of Art.
Barns-Graham attended the College from October 1931 and finally graduated, after setbacks caused by illness, in 1937. The connection with the College did not end with graduation. Barns-Graham was awarded her first scholarship in June 1935, and further awards in each of the following five years. Thus intermittently continuing study at the College until 1939, she also exhibited at the Summer Exhibitions of the RSA until 1945. This does not imply a parochial background. She and her friends such as William Gear and Margaret Mellis were acquainted with modern art in both London and Paris in the 1930s. The Principal of the College since 1932, Hubert Wellington, was aware that some of the most advanced talents in Britain had gathered at St Ives in Cornwall for the duration of the War. In 1940 both the war situation and Barns-Graham's poor health suggested to him that this would be a suitable refuge for her, and she arrived in St Ives in March 1940.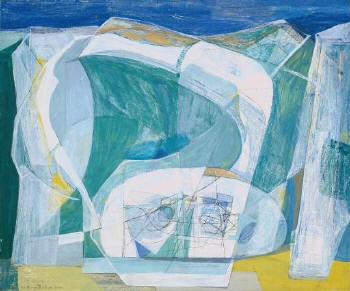 From that date Barns-Graham's history is bound up with the School of St Ives, where she retained a studio until her death. Through Margaret Mellis and her husband, Adrian Stokes, who were already there, she was early introduced to Ben Nicholson, Barbara Hepworth and Naum Gabo, leaders of the modern artists. She got to know the 'primitive' Alfred Wallis and the autodidakt Sven Berlin. Barns-Graham's concerns with precise drawing and ordering of shapes and colour were confirmed by these experiences. Nicholson liked her drawing and while she learned from him the relationship was not one-sided. The group of painters now known as the St Ives School began to form only after the end of the war, with Peter Lanyon, Terry Frost, Bryan Wynter and Roger Hilton all living or staying frequently in St Ives. With their arrival as young men determined to make careers and exploit a new atmosphere favourable to modernism, the St Ives scene became competitive. As they strove to establish their names and dealerships in London or abroad, Barns-Graham began to feel that she was being side-lined.
Another visitor to St Ives in 1947 was an aspiring young poet, David Lewis. They met and despite an age difference of about ten years, were married in 1949. The next ten years saw the full development of Barns-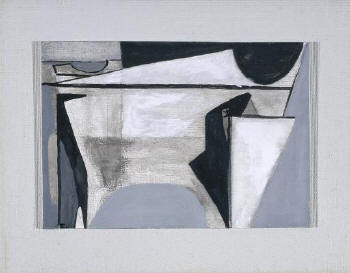 Graham's powers as a modern painter. It was, in general terms, in line with that of St Ives School, starting with abstractions based firmly on perception, as in her Glacier paintings of the early 50s, and moving to a free and intensely personal use of the brush. These were also years when Barns-Graham and her husband travelled widely, met other modern artists in Paris and toured in Italy. It was not to last. In 1956 David Lewis enrolled in the School of Architecture at Leeds. Accompanying him, Barns-Graham taught for a session at Leeds School of Art. She did not return for the next session and her separation from Lewis became permanent. They were divorced in 1963.
In 1960 Barns-Graham inherited from her aunt, Mary Neish, a family house, Balmungo, near St Andrews, initiating a new phase in her life. She now began to divide her time between St Ives and St Andrews. For the time being the result was loss of recognition in St Ives with a questionable gain in Scotland or in London. Her work did not falter but it changed direction, now employing hard-edged geometric and linear forms. Her capacity to make them serve the purpose of expression was unique. Never static, her forms are always in motion across the surface. These remained the basis of her work for the next two decades. Barns-Graham was not really short of exposure in the 60s and 70s but felt she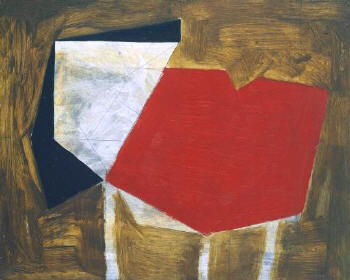 had lost the commercial edge to other St Ives painters. The memory of the jockeying for advantage in St Ives remained a bitter one all her life. This seemed to be confirmed in 1985 when the Tate Gallery organised a large exhibition St Ives 1939 – 64 showing only three works by Barns-Graham against twenty, for example, by Roger Hilton. However, the event did mark the beginning of a revival in her spirits and fortunes, continued by the retrospective in 1989 at the City Art Centre in Edinburgh, and at Penzance.
The last phase of her work was just beginning. From about 1988 to her death there was an outpouring of triumphant and beautiful work employing the full resources, of line, colour, shape and calligraphic brushwork, employed with all the brio and freedom, of a vastly experienced painter. She added to her repertory the screen prints which introduced the joyfulness of her work to a new market. Wilhelmina Barns-Graham died on 26 January 2004, deeply mourned and honoured; she was made CBE in 2001. She also lived to see published in 2001 the first full biography, by Lynne Green, a revelation to all who open it, which showed for the first time how tightly woven into the fabric of modern art in Britain and abroad was this remarkable woman. By her Will, Barns-Graham set up a charitable trust for the better preservation of her artistic legacy, and to provide bursaries for art students such as she herself received in youth.
Douglas Hall
text appears courtesy of the Wilhelmina Barnes-Graham Trust. For more information and images visit www.barns-grahamtrust.org.uk