Bedwyr Williams: Chydig Bach Yn Too Much
Newlyn Art Gallery, 28th June - 30th August
Modernist painting had its moments of levity and wit, but performance art in the Dada/Fluxus tradition has always done prat-falls, belly-laughs and absurdity better: Nauman exploring nihilistic dark humour in the early 70s and subsequently, Wegman and Baldessari more playful whimsical stuff. Humour has had its exponents amongst UK artists too: think Gilbert and George, Bruce McLean and more recently Bob and Roberta Smith.
The advantage of humour is that it elicits a physical response in the audience: they smile or even laugh, and when they do you know, as an artist, that the work is working. But some jokes are more profound than others. Freud suggested that they are like slips of the tongue: they appear in the space where simple logic fails and thus can reveal deeper psychological truths.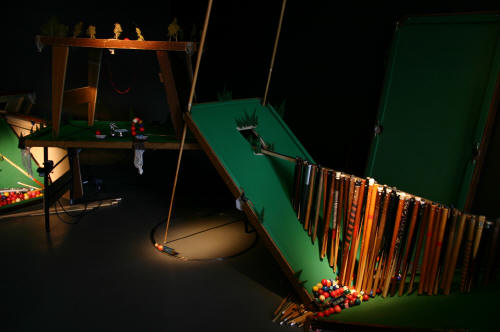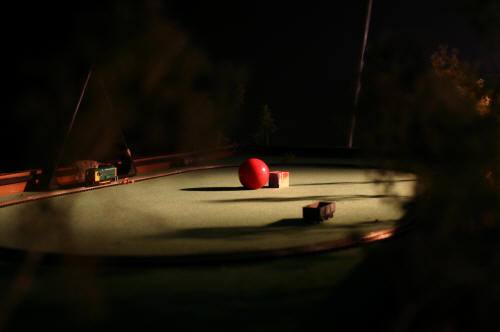 Some of the funniest work in Welsh artist Bedwyr Williams show is self-deprecatingly autobiographical. The handout suggests that 'Tyranny of the Meek' in the downstairs gallery (picture above) was made as a revenge piece by Williams, who as a teenager remembers being teased by snooker players for his interest in model railways. The installation is a re-creation of an arcadian landscape with rolling hills, comprised mainly of upturned snooker tables with green baize, like grass, planted with model trees from Hornby railway sets. It seems to suggest, rightfully, that Welshness resides as much in the past-times of its inhabitants as it does in the landscape itself.
A similarly irreverent attitude to landscape is present in a number of other works. 'Twiggery' on the floor of the upstairs gallery (picture below) looks like a comic depiction of a land-artist of the Andy Goldsworthy school who has been killed by an axe whilst carefully arranging twigs in patterns on the ground. The murderer is Williams himself who seems to be making a clear statement about his view on art of this kind.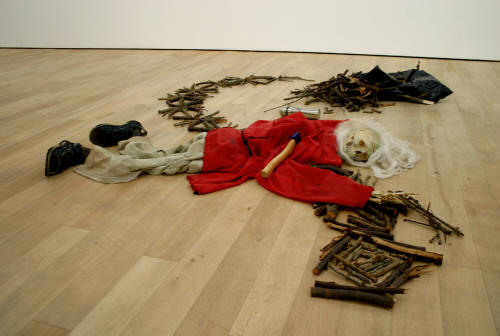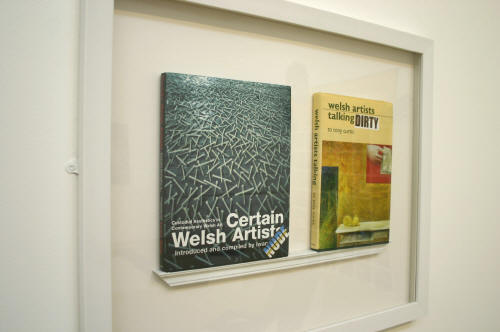 More laughs come with two defaced books: 'Certain Welsh Artists Nude', and 'Welsh Artists Talking Dirty' (above). Also funny, though more disturbing is 'Cariad/Casineb': a photo of the artist holding out his fists to reveal tattoos of the words 'love' and 'hate' translated into Welsh, with digitally added fingers and knuckles, sufficient for each letter (below).
The Welsh language is also the inspiration behind 'Ceradi spellcheck' (below). Here famous Welsh poems are mutated by being put through a computer spellchecker; the absurd results printed onto photographs of the Welsh countryside.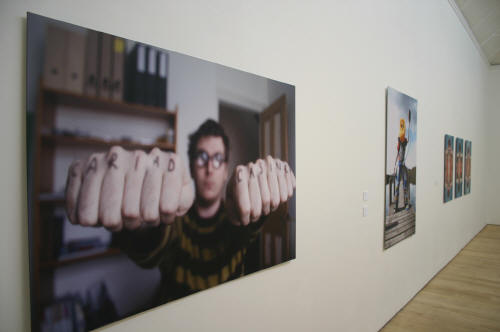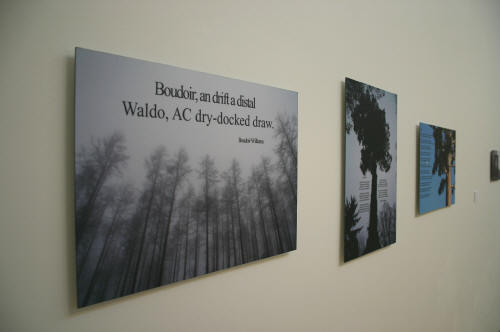 Both 'Table Tennis Table' and 'Walk a mile in my shoes' (both pictured below) are potentially interactive, though neither inspired visitors to 'interact' whilst I was visiting. The former seemed to relate to the work in the lower gallery in cleverly using the dark green colour of a games table to imply land-mass, though in comparison this work was more biographical as it symbolised the predicament of the artist commuting between London and Wales.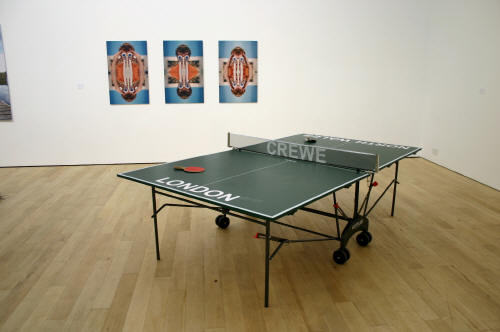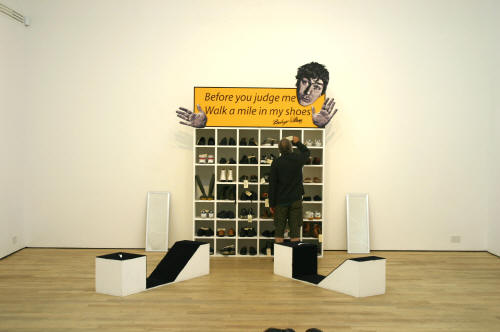 The strongest works layered biographical content with more profound reflections on regional identity, however. Gas-guzzling four wheel-drive vehicles are common-place in rural parts of the country, and have come to represent our deeply hypocritical relationship to the landscape. Shown next to 'Table Tennis Table', '4WD' (picture below) included a tyre-cover bearing an ironic photo of the artist as a Welsh bard complete with full grey beard and harp.
Downstairs near the exit, 'Sir Bedivere Martini' (Bedivere is an English version of Bedwyr - picture below) was a cocktail glass containing a small silver sword representing Excalibur cast into the lake. The work was part of a larger work retelling the story of King Arthur using cocktail paraphernalia: legend - the stuff of high art - brought crashing down to earth in a still moving and poetic way.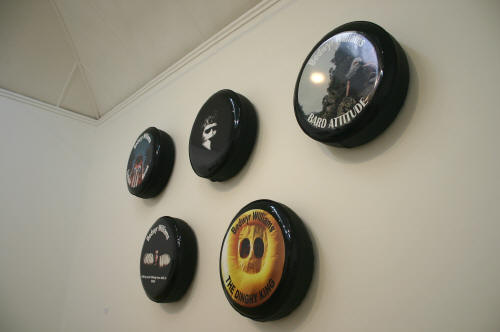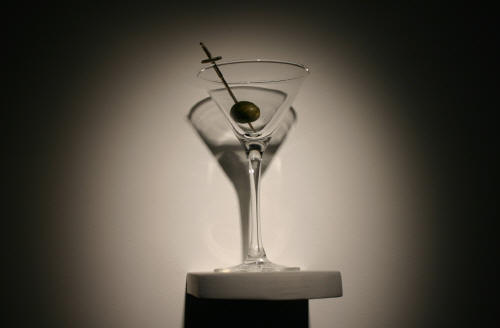 This was a very good show to bring to Cornwall. Although many of the jokes in the exhibition are obviously cheap jibes at the expense of cherished national icons, they still manage to raise highly relevant questions on the nature of regional identity, which should provide much food for thought for local audiences.
Because there are now two contemporary public galleries in Penzance it is interesting to compare the programs in the different venues. Although the NSA Drawing Show, currently at the Exchange, has a number of strengths, it shares with art in the rest of Cornwall a tendency towards being rather timid and polite - something thrown into stark relief by the Bedwyr Williams exhibition. It is also rare to find work by Cornish artists that engages both with contemporary lifestyles, and the politics of regional identity in a comparably challenging and engaging way.
This show therefore had more in common with Peter Geschwind's earlier in the year. Williams' benefitted, however, from the fact that it is easier to draw parallels between North Wales and Cornwall, than it is Sweden (Geschwind's home country) and Cornwall. As a result his exhibition was more immediate and culturally relevant to local audiences, suggesting, in turn, that it would be good to see similar work from regional and rural (celtic?) parts of the UK in the future.
RW 4/8/08